Numerology and tarot: Threes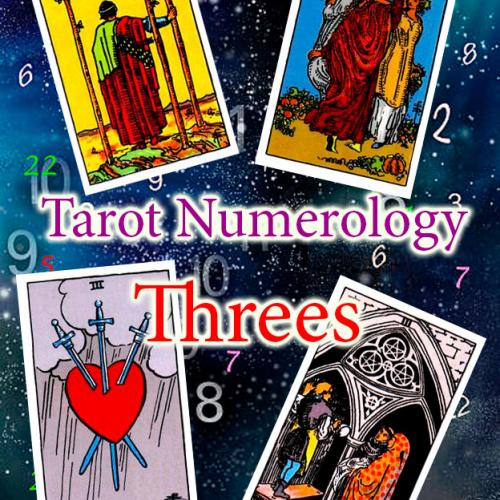 Threes are associated with the Empress and represent a fruitful alliance of pure male (represented by the Mage) and pure female (represented by the High Priestess) beginnings. Due to that reason they are seen as harmonic and balanced (as are all the numbers that are multiple of three). Threes are traditionally associated with fertility and abundance, but also with the first earthly manifestation of a new gift or potential, marked by the Ace and already thought out, weighed, planned and rated on the stage of Twos.
The adventure is far from over, quite the opposite, it is only starting – a few steps towards making a dream into a reality are made. Another aspect of Threes is the appearance of a third person. Twos naturally mean duality, and often talk about a presence of a second person, but Threes go even further and lead to even more artistic productivity and great difficulties, happiness or sorrow.
Cups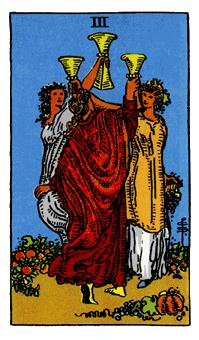 Friends or family celebrate new couple relationships, for example, engagement – it is at that stage, that the relationship becomes known and gets public recognition, but is still far from marriage. There is also a possibility of pregnancy or adoption. The first harvest of the season, holiday and a feast, a possibility to share your fruitage with others.
Wands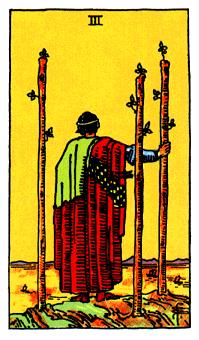 After a while of planning, businessmen start a new affair and conclude their first contract. A person makes the decision to change his lifestyle and starts moving into that direction. A teenager makes his first few steps into the world, explores and experiments. A new job application is accepted, which means serious changes in the career. Expansion of a business and the appearance of new servants or partners.
Swords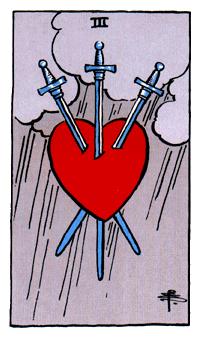 A moment, when a practical new direction of thoughts manifests; for example, when a person wrote the first chapter of a future novel. A grant is received and the program of scientific research begins. The person presents his ideas during a conference and learns the reactions of the public or colleagues. Interference of a third person into a, what seems a, stable relationship, results in jealousy or a broken heart.
Pentacles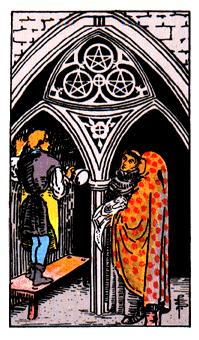 The first practical use of a new skill into making something tangible. The project goes from a simple design into a practical implementation. The family decides to move to a different part of the country to start a new life and moves into a new house. Financial investments bring dividends. Work in a team to achieve practical goals.
All these situations signify growth, sometimes painful, sometimes fruitful and pleasant.