The Tree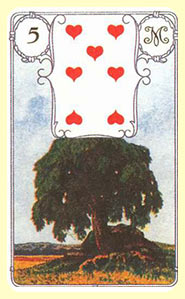 The Tree Lenormand Meaning Keywords
Growth
Grounded
Past Connection
Personal Growth
Spirituality
Health
The Tree Lenormand Card Meaning and Interpretation
This card can comment on a variety of things - though in more general situations, it focuses on wellbeing and health - both in a physical and a spiritual sense. The tree asks us to look at ourselves from a wholistic perspective. Perhaps it is an indication to take a walk with nature.
Our roots lie far back in our pasts, so timing wise, it tends to refer to past events and situations - a current moment grounded in what came before. Like a tree, what is happening today perhaps took quite a bit of time to grow - but what came out of that time created security.
With its many intertwining branches, it also reminds us that we are all connected - and thus the card can also indicate there is a deep bond between two people in a reading.
Questions to Ask with the Tree
What does your higher self say?
How does this help me develop as a human being?
From when did this start happening?
How do I find connections between myself and others?
The Tree LenormandCorrespondences
Card Symbol: Seven of Hearts
Number: 5
General Feeling: Neutral
Planet: Saturn
Zodiac: Capricorn
Timing: 9 - 12 Months
The Tree Lenormand Combinations
| Paired Card | Combined Meaning |
| --- | --- |
| 1. Rider | health news, visitor with roots in the past |
| 2. Clover | recovery from sickness |
| 3. Ship | spiritual journey, travel for one's health |
| 4. House | home repairs, stability in health |
| 6. Clouds | spiritual uncertainty, uncertainty about health |
| 7. Snake | sickness, health issues |
| 8. Coffin | major illness, severe depression, declining health |
| 9. Bouquet | healing, nature, good health, wellness |
| 10. Scythe | surgery, health procedure |
| 11. Whip | physical abuse, pain |
| 12. Birds | speech issues, vocal problems, spiritual |
| 13. Child | pregnancy, childhood health issue, sick child |
| 14. Fox | undiagnosed health issue, misdiagnosed issue |
| 15. Bear | weight gain, overwhelming condition, expensive illness |
| 16. Stars | recovery, healing, treatment |
| 17. Stork | following nature, birth, pregnancy |
| 18. Dog | lasting friendship, deep connection, sick pet |
| 19. Tower | hospital, clinic, physical control |
| 20. Garden | fresh air, spa, garden, communal nature projects |
| 21. Mountain | exhaustion, blockages to recovery, physical challenges |
| 22. Crossroad | changes in direction, spiritual path, decision about health |
| 23. Mice | decline in health, stress, drained, weak immune system |
| 24. Heart | heart issues, strong relationship, romance, compassion |
| 25. Ring | partnership, physical connection |
| 26. Book | health exam, unknown health issue, studying nature |
| 27. Letter | lab results, health report |
| 28. Man | sick man, male doctor, healer, male ancestor |
| 29. Woman | sick woman, female doctor, female ancestor |
| 30. Lily | health issues from age, sexual health, inner strength |
| 31. Sun | lots of energy, strong health |
| 32. Moon | mental health, emotional health, melancholy, intuition |
| 33. Key | recovery, fate, family secret, releasing from restrictive family |
| 34. Fish | increase in wealth, financial stability, family business |
| 35. Anchor | stable health, physical restraint, strong stability, routines |
| 36. Cross | pain and suffering, firm roots, convictions |