The Scythe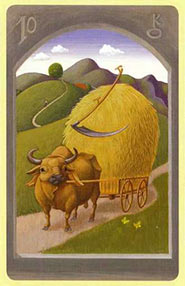 The Scythe Lenormand Meaning Keywords
Accidents
Hasty Decisions
Danger
A Warning
Speed
Reckoning
The Scythe Lenormand Card Meaning and Interpretation
You'll have to be on the lookout for something when you see the Scythe card appear in a Lenormand reading. A sudden ending is on the horizon, and it will most likely come without warning or expectation - though we must remember that all endings are not necessarily harmful ones. The ending will most likely be swift, and signal a clear break - and what occurs can also lead to lasting effects.
On a more symbolic level, the Scythe represents harvesting - a time when we are reaping the rewards (or punishments) of our past actions. It can mean a moment of taking stock of what we have accomplished, of self-judgement and reckoning. We must look backward to understand what we can best do to move forward and learn from what has been completed. Therefore, the Scythe can also signal a closure in that sense.
Questions to Ask with the Scythe
What is something that I must let go of?
How can I prepare better for sudden changes?
What should I look back on?
What changes should I make going forward?
The Scythe Lenormand Correspondences
Card Symbol: Jack of Diamonds
Number: 10
General Feeling: Negative
Planet: Pluto
Zodiac: Scorpio
Timing: Quickly, Suddenly
The Scythe Lenormand Combinations
| Paired Card | Combined Meaning |
| --- | --- |
| 1. Rider | accident, sudden message |
| 2. Clover | a happy surprise, a lucky ending |
| 3. Ship | a painful goodbye, end of a journey or trip |
| 4. House | ending of a family relationship, ending of traditions |
| 5. Tree | surgery, health procedure |
| 6. Clouds | to end confusion, sudden confusion |
| 7. Snake | an end to ambition, sudden desire |
| 8. Coffin | a sudden ending, a painful ending |
| 9. Bouquet | an unexpected invitation |
| 11. Whip | sudden danger, sudden conflict, ending abuse |
| 12. Birds | being alert to sudden changes |
| 13. Child | danger from inexperience, an injured child |
| 14. Fox | self-defense causes pain to others, sudden selfishness |
| 15. Bear | breaking away from dominant people, breaking a habit |
| 16. Stars | loss of hope, sudden change in dreams |
| 17. Stork | ending transfromation, sudden transformation |
| 18. Dog | end of a friendship, end of loyalty |
| 19. Tower | a rational ending, painful loneliness |
| 20. Garden | an end to public involvement, public ending |
| 21. Mountain | obstacle to ending something, blockage then sudden movement |
| 22. Crossroad | pain from our choices, sudden choice, eliminate a choice |
| 23. Mice | ending bad habits, ending corruption |
| 24. Heart | broken heart, ending a relationship, ending with compassion |
| 25. Ring | break a promise, ending commitment |
| 26. Book | reveal a secret, knowledge about danger, hurtful truth |
| 27. Letter | ending communication, an interruption |
| 28. Man | a hurtful and dangerous man, a male ex |
| 29. Woman | a hurtful and dangerous woman, a female ex |
| 30. Lily | dangers of sensual pleasure, sudden ending for moral reasons |
| 31. Sun | ending of fun or joy, ending that which does not bring happiness |
| 32. Moon | sudden emotional pain, sudden consciousness of something |
| 33. Key | opening oneself to danger, opening oneself to putting an end to something |
| 34. Fish | taking stock of financial situation, settling finances |
| 35. Anchor | ending one's ties to something, removing restraints |
| 36. Cross | responsibility of ending, sudden pain and suffering |