Judgment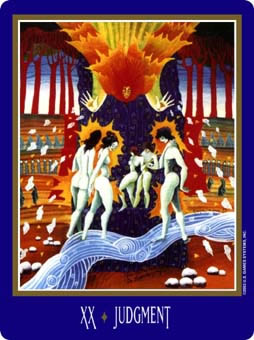 You have the power to make changes and feel complete.
The Judgement card, sometimes called "Resurrection," represents the great reunion that the ancients believed would happen once in every age. This was the time when souls are harvested and taken home to their place of origin, outside the solar system. Then the world is seeded with a batch of new souls and the process starts over.
From a modern point of view, this great reunion -- which includes every personality that you have ever been and every soul that you have done deep work with -- reunites to consciously complete the process. In a way, we symbolically celebrate this returning to center every year on our birthday.
In personal terms, the Judgment Tarot card points to freedom from inner conflicts, and so clear a channel, that the buried talents and gifts of past incarnations can come through an individual in this lifetime. This card counsels you to trust the process of opening yourself, because what emerges is of consistently high quality. You can effortlessly manifest as a multi-dimensional being, and assist in evoking that response from others.
In the Advice Position
Let go of your past. The future welcomes you with a bounty of growth and change.
The card in the Advice position suggests a course of action which will harmonize what you want with what is currently possible.
The Judgment card advises that you allow yourself to grow, transform, and release hidden potentials within yourself. Divest yourself of fruitless endeavors without neglecting your duties. At the same time, invest your energies in new growth.
It's not necessary to reject others, but refuse to be manipulated by those who cry foul. This process isn't about them anyway. It is about you and the desire you feel to change your life and become a more complete person. Trust your impulses and allow this remarkable awakening to happen.